We provide therapy services for the physical rehabilitation of adults with neurological diagnoses, with an emphasis on Neuro-Developmental Treatment (NDT) and Balance Rehabilitation.  NDT is an established and respected approach to the rehabilitation of individuals with stroke, brain injury and other neurological problems.
This hands-on approach is used to provide therapeutic intervention to people who have central nervous system problems that create difficulties in controlling movement. Therapists using NDT treatment have completed advanced training in NDT and work closely with individuals with neurological challenges (e.g. stroke, head injury, cerebral palsy), helping them to become as independent as possible.
NDT-trained therapists work collaboratively with individuals, family members, caregivers and physicians to develop comprehensive treatment programs based on the principles of human neurology and physiology. Individuals who have minimal to severe motor difficulties can benefit from the NDT approach.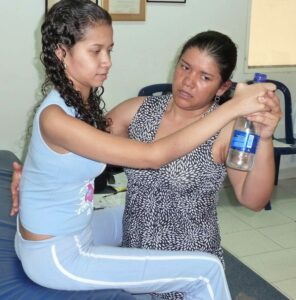 Our professionals have received the "C/NDT" certification from the Neuro-Developmental Treatment Association, and are Instructors in this approach.
Monica Diamond and Thomas Diamond each hold the "C/NDT" certification conferred by the Neuro-Developmental Treatment Association.
Monica is a Coordinator-Instructor with the NDTA and teaches and coordinates NDTA Certificate courses.
Tom is an NDTA Instructor for Physical Therapy content.
Contact DiamondPT, LLC to schedule a neuro-developmental treatment appointment with a "C/NDT" certified professional or to learn more about becoming certified in NDT.
What is the "C/NDT" Certification?
C/NDT is the certification mark used by those who have successfully completed one of the below Neuro-Developmental Treatment Association (NDTA) sponsored and approved Certificate Courses:
NDT/Bobath Certificate Course in the Management of Adults with Stroke and Brain Injury
NDT/Bobath Certificate Course in the Management & Treatment of Children with Cerebral Palsy and Other Neuromotor Disorders
Those permitted to use the C/NDT certification designation must hold active NDTA membership and complete 20 hours of continuing education during each 3 year certification period.
For more information about the C/NDT certification program:
Download the NDTA Certification brochure.
Click for information about NDT certification.
Benefits of becoming certified in NDT by the NDTA:
Recognition for the knowledge acquired & the continuous process of updating information that is involved in being NDT therapists.
Improved skill in integrating current NDT Theory & Practice.
Prestige in NDT Certification accomplishments.
Recognition of advanced skills that may be recognized by employers or state & local agencies.
Potential reimbursement for pursuing a certification course, compared to a CE courses that does not result in certification.

Recognition of your status through the use of the initials C/NDT after your name

.